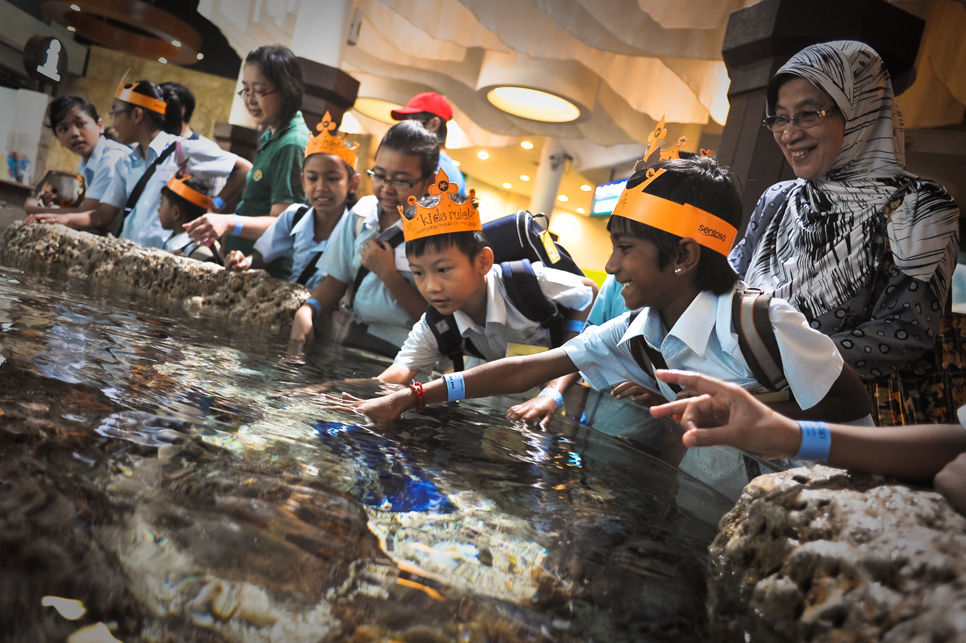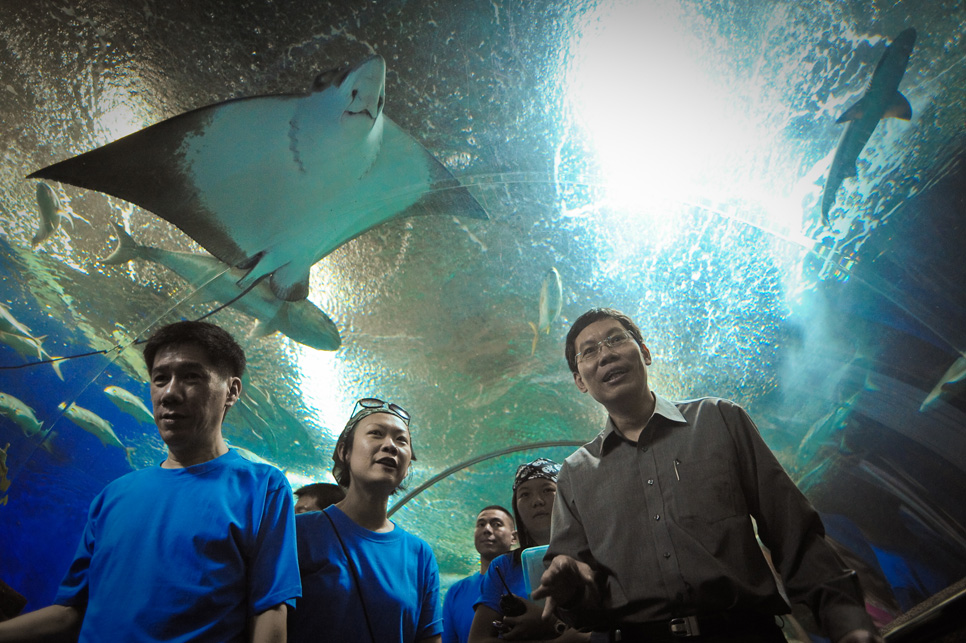 A group of sea adventurers sailed out to sea in search of new lands. From Little Explorers, the children participating in the third edition of Children For Children became Sea Explorers as they celebrate Children's Day at the Underwater World Singapore. It was a record when more than 1,000 pupils from 73 primary schools island wide participated that year. Joining the Sea Explorers at Underwater World Singapore was Acting Minister for Information, Communications and the Arts, Mr Lui Tuck Yew.
The theme for the day was Sea Explorers. There was also an underlying green message which stressed the fragility of the ecosystem and the importance of conservation efforts.They began their adventure by venturing into the Underwater World Singapore. There, they spotted a nearby island and were amazed by the golden glistening sand surrounded by clear blue sparkling water. Along the way, everyone learnt about the different species of marine life and was mesmerized by their vibrant colours and occasional bizarre appearance. As they continued their journey around the island, they encountered friendly pirates who disclosed secrets on how to uncover the hidden treasures.
Around the marine theme park were arts and crafts booths designed to inculcate important skills and values such as leadership, responsibility and creativity. There were a total of five booths that participants could choose from, all of which incorporated green messages and pledges to a healthier, more eco-friendly world. In the end, many made original keepsakes like magnets, little sea creatures and beautiful bookmarks to commemorate the meaningful day they have just experienced.
Laughter and chatter could be heard all around the island as everyone leisurely ventured to the Dolphin Lagoon to catch the long-awaited performance by the students from CHIJ Kellock. The performance followed the story of three pirates living on the island, and included five dance items comprising of tap dance, Chinese dance, flag dance, ballet and rhythmic gymnastics. Faces were one of amazement as the audience watched the graceful and hypnotic movements by the dancers.
Children For Children managed to raise a sum of $435,000 for both The Business Times Budding Artists Fund and The Straits Time School Pocket Money Fund. This year's CFC acted as a platform to highlight to our pupils that we are never too small to make a big difference in the lives of others and the world we live in.